On our drive back home from Livermore last night, Alex made this funny little reveal,
"When I was a kid and I walked past apartment complexes, I'd think to myself,
[insert smug disdainful voice]
'my parents
own
their own house.'"
The irony of youth is terrific.
"Now, I am that union guy who works to get more rights for the common man."
We've come a long way, he means, him and his perceptions. Nearly backwards, some might say.
This taxicab confession is too much for me, because I am a judgmental know-it-all. My giggling response:
"When
I
was young I looked at houses in the suburbs and wondered why people needed so much space! If we all shared walls and lived in one building, it would be cheaper and we'd have neighbors and friends build in."
He smirked at me. Social idealist, this one.
He continued, mulling the idea that conventional American thinking taught him that apartment living is for young families on the up-and-up.
Entry-level living.
He knows better now. Dating while I was in Spain, then taking on my graduate study debt coupled well with the economy to keep a house far out of his reach.
You're welcome, honey!
This was more a revelation of Alex's own disillusionment (
I might be rubbing off on the poor fellow
). Homeownership is a tenet of American living. Ingrained into our psyche
because it means we don't have to share.
A single-family home gets you a large chunk of space to do whatever you want: no shared walls, no shared mail boxes, no overhearing the neighbors having sex, neglecting babies, dealing drugs, or any of that substandard behavior that runs rampant in the apartment class.
Right?
It's so terribly American to want to own space
. Not, Space, the final frontier - although that's true, too. Rather, the space we occupy. It doesn't count until you own it.
The newest tract housing down the street may as well be called '
Manifest Destiny.
'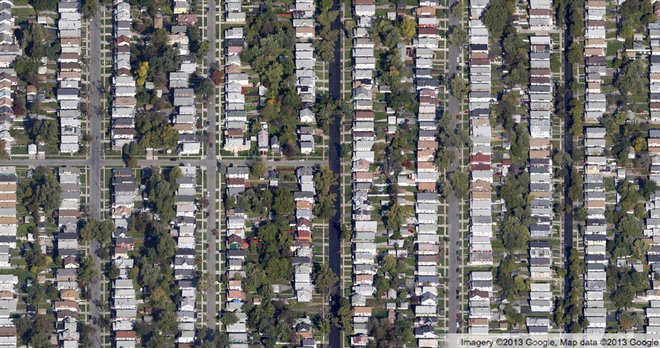 Manifest Destiny: Surround yourself with more of yourself!
This existential housing identity is a real problem.
Our culture needs LOTS and LOTS of room to fit in all out individual buffer zones.
It's like Monopoly yet again - buy a house or be cursed to rent yourself to debt.
So far we have mastered the knack for circling the board counting out the pennies we earned by passing Go! (okay, I exaggerate - it's more compelling this way).
It's enough to make us obsessed with getting our own space. Validate us, everyone! Don't we work as hard as you? We don't even want Park Place or Boardwalk. Give us that leftover brown property, Baltic Avenue? No one wants that, it's perfect for us.
Until we become rich enough to fulfill our patriotic duty of populating a home with our own single family, we can only
ogle at our must-be millionaire neighbors and wonder, when is too old to begin nesting?
Ah well, we make do with our small scale rented life for now.
It keeps us scrappy
. It certainly has a way of teaching us to budget. And, perhaps most poetically, it keeps us in touch with our inner
les misérables
enough to keep us scraping away for something better.
That's a more interesting love story, anyway.